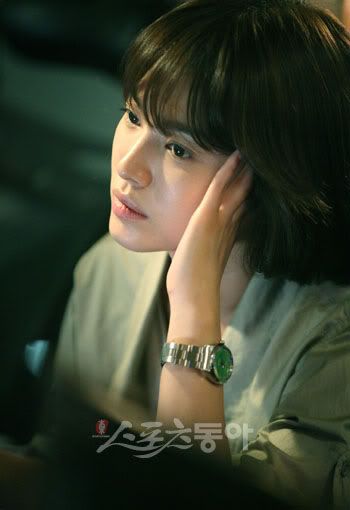 With Song Hye-gyo gearing up to come back to television, she's again in the spotlight (not that she's ever really out of it) after taking some time since her last project, the high-budget flop that was the film Hwang Jini. (Her performance was seen as passable, but the movie itself was not a success.)
DongA.com conducted an interview with the actress while on set for her new KBS drama The World They Live In (director Pyo Min-su, writer Noh Hee-kyung), co-starring Hyun Bin.
With her thirties approaching (she's 28, Korean age), she mentioned that she'd likely be turning her thoughts seriously to marriage once she's in her thirties. She said up-front, "t would be nice to have a boyfriend. I think I'd like best someone I could connect with through conversation." Of course, she recognizes that as a top star, this is easier said than done, with one's every action under the strict scrutiny of others.

This is, in fact, something she's learned from her past experience as part of a high-profile star couple (she dated Lee Byung-heon after the two starred in the drama All In). "The viewers suddenly learned, while in the midst of watching a drama I was acting in, that I was somebody's girlfriend. In the end, this was an obstacle and only served to create a sense of dislike among viewers."
Now she's learned to draw a clear line between private and public life. Furthermore, she's changed her outlook on projects, saying that while she'd previously chosen her projects thinking of overseas exposure, "now I won't hesitate to take risks. I want to be a prolific actor and work in a variety of genres and characters, and experiment as much as I want."
It hasn't seemed that long, but it's actually been four years since you were in a drama.
"Maybe it's because the dramas are re-aired. In the summer it's always Full House, in the fall it's Autumn Fairy Tale, and All In in the winter. Cable television keeps airing them."
In this drama, your occupation is a drama PD.
"I've because I've seen this as keeping a promise with director Pyo Min-su, whom I worked with on Full House. Joining with him again was a clear choice, and I'd always wanted to do something that scriptwriter Noh Hee-kyung had written. I like her writing so much that it makes acting more difficult, and I'm more careful for fear I won't do well."
Through your work in the drama, you've seen the perspective as a PD. Have you wondered what it is that a PD desires of the actors?
"Isn't it enough to act well?" [Laughs.]
What kind of change will we see in twenty-eight-year-old Song Hye-gyo as an actor?


"If I stay up all night even once, I'll have dark circles under my eyes. As an actor, I think my sense of responsibility has grown stronger. I've also come to want to achieve more in my acting."


You look like you've lost some weight and matured.
"I think so too, say if I watch the drama Autumn Fairy Tale and compare myself with how I am now. Back then, it was like I was practically bursting. [Laughs.] In the end, constant exercise is the answer. I run, cycle, and do a lot of outdoor exercise."
Song Hye-gyo shines more in dramas than in movies.


"Wait and see. I'll show you more in my film work."


When you finish this drama, you have John Woo's film 1949 awaiting you.


"Starting in February, filming will begin and I'll be going back and forth to Taiwan and China to cities like Shanghai. I'll be swamped as I work on the drama and study Chinese at the same time. This drama will go on record as being the drama with the most amount of dialogue that I work on in my life. Or in other words, it's one hurdle after another."


Your Hollywood debut film Make Yourself at Home was invited to this year's Pusan International Film Festival.


"It's an independent film. It's marketed as a Hollywood debut, which is a very big burden. I'd merely thought of it as a plot I liked, combined with my desire to try something in the English language."


What is the everyday Song Hye-gyo like?


"When I'm not working, I travel, hang out with friends, and take the chance to learn things I'd been wanting to learn. I cook at home occasionally. I can do most Korean food pretty well — my mother says that my cooking is better."
CREDITS:
Dramabeans